Concert for a Cause
August 26 @ 5:00 pm

-

8:00 pm
Concert for a Cause is a free event put on by Safe Families for Children that will be on August 26, 2017 from 5pm-8pm. This event will be held at the Dickmann Town Center in Downtown Anderson. This year's concert will be headlined by season 6 winner of The Voice, Josh Kaufman. We had great success with this event last year and are expecting to draw over 3,000 people this year! Concert for a Cause will also include food vendors, a silent auction, and family-fun activities. It is a great way to bring the community together for an incredible cause– families helping families in their own backyard.
Safe Families provides a helping hand to families in times of extreme crisis by temporarily placing children in host homes. Problems such as homelessness, domestic abuse, or illness can be debili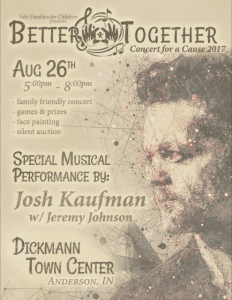 tating, making it impossible for parents to care for their children. Safe Families offers a safely net during such crisis where children are especially at risk as their parents struggle to cope with crushing circumstances. Since 2005 this national movement of compassion has offered sanctuary to thousands of children, minimizing the risk for abuse or neglect and giving parents the time and tools needed to help their families thrive.