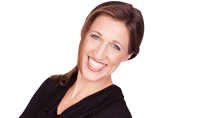 "The picture perfect life is attainable, it's just the contents of everyone's picture is different."
Amanda Carroll is recognized as one of the brightest talents in Christian broadcasting. Her ability to connect with an audience, especially women, is well established.
Amanda most recently hosted middays for the national network, K-LOVE and now joins 98-7 The Song as our afternoon host!
Amada is a single mom raising three children, and her life story of dealing with the unexpected has been an inspiration to millions. She maintains a daily blog to encourage other single moms at www.amandacarroll.org.
She sits on the advisory board and speakers bureau for The Life of a Single Mom Ministries, and enjoys speaking engagements that help connect single moms to each other, and most importantly into a relationship with God.
Listen for Amanda every weekday from 2 to 7pm on 98-7 The Song…and be encouraged!